Academy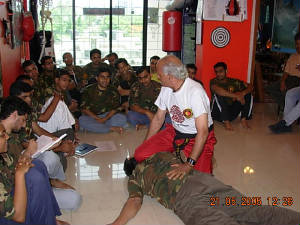 The MCA MUMBAI COMBAT ARTS TRAINING CENTER is a holistic concept dealing with FITNESS, COMBAT ARTS, REHABILITATION, NUTRITION and MIND ARTS.
We have the following highlights at MCA-
Independent fully dedicated state of the art Studio at Andheri West.
First and only place in india to offer all the modern day martial arts
like Muay Thai, Krav maga, JKD, MMA Mixed Martial arts, BJJ, Filipino Kali, Aikido, Wing Chun, etc.
Facilities primarily for Adult working stressed out men and women.
Weekend training once or twice a week for convenience.
Flexi timings alterable by appointment.
Sophisticated specilaised equipment for building speed, power and precision.
Safety gears to enable safe engagements between participants.
Selection of clients to exclude low socio economic uncultured street vagrants,
An environment of good and healthy energy exchange towards  BETTER HEALTH, FITNESS & CONFIDENCE.  
Call 9820496752 and speak to Ms Zeenat to schedule a visit to MCA – Mumbai Combat Arts Training facility, India's one and only one dedicated combat training studio.