Modern Martial Arts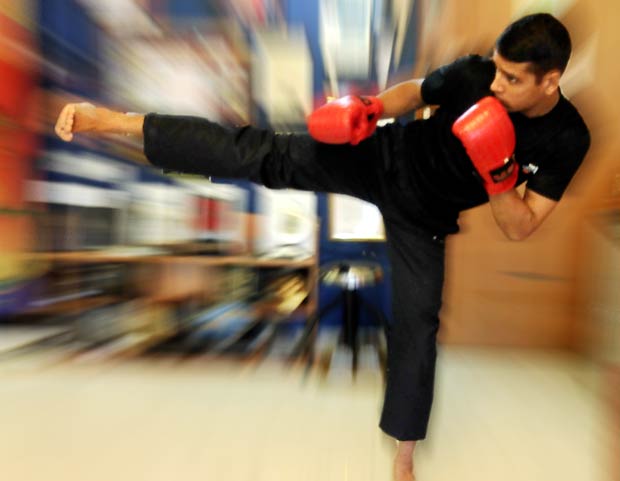 MCA -Mumbai Combat Arts Training Center is an independent, fully dedicated state of the art Studio at Andheri West. First and only place in india to offer all the modern day martial arts like Muay Thai, Krav maga, JKD, MMA Mixed Martial arts, BJJ, Filipino Kali, Aikido, Wing Chun, etc.
In today's modern era, newer arts of MMA, BJJ, Krav Maga, JKD and Muay Thai are replacing traditional arts like Karate and Taekwondo. While for the traditionalist, there may be nothing better than the age old Karate, the modern day man is looking for fitness alongwith combat skills in a informal environment, where there are no uniforms and rituals and music replaces loud kiais to encourage the trainee's performance for fun and fitness. MMA, BJJ, Krav Maga, Mu Thai and JKD are more calorie burning, shorter duration, easier and fun filled activities burning more calories than traditional fitness workouts. All over the world, these combat arts have become the standard replacement for conventional workouts like Aerobics, Gym, Jogging or Squash/other Ball games. Furthermore all age groups from Teenagers, Adult Men, Women, middle aged Mature executives to elderly are taking to this modern day craze. 
Via COMBAT TRAINING, We make people addicted to a life of a fighter in mind, soul and body. Every animal learns to fight for survival. Humans too have a natural ability to fight for survival and we help develop this inherent ability while making learning fun and safe, with our state of the art equipment, medical monitoring, music and expert specilaist licensed instructors.
Call 9820496752 and speak to Ms Zeenat to schedule a visit to MCA – Mumbai Combat Arts Training facility, India's one and only one dedicated combat training studio.