MUMBAI COMBAT ARTS TRAINING CENTER
"Combat training is an essential characteristic of living beings. In the jungle, in order to survive every morning the gazelle knows that it has to run faster than the fastest lion. The lion knows that he has to run faster than the slowest gazelle, if he has to survive. So whether you are a lion or a gazelle, if you have to survive, you have to train in combat!"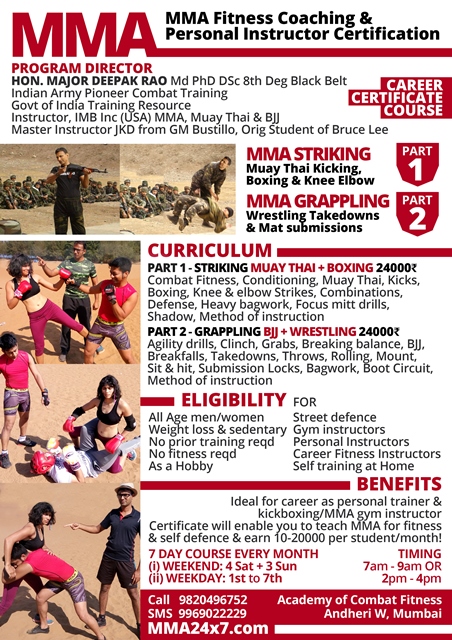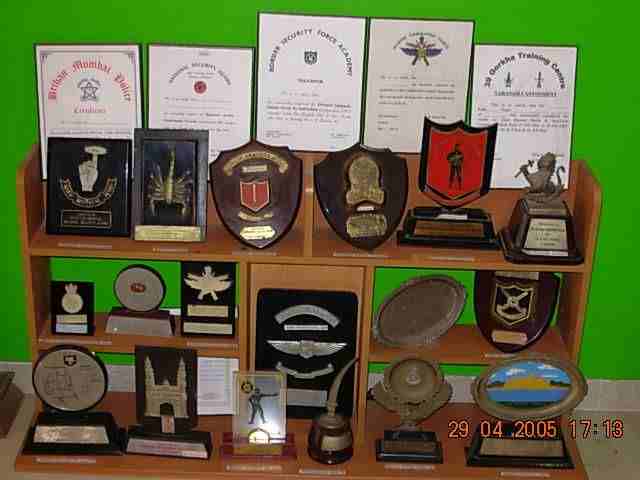 (Trophies from Indian Govt for training Elite Training)
Welcome to MCA -Mumbai Combat Arts Training, the most happenning state of the art holistic training center in Bombay city metro, established by Hon. Major Rao, a commando trainer from Indian Army Parachute regiment TABN, for the purpose of offering world class facility in India.
The MCA is a holistic concept dealing with FITNESS, COMBAT ARTS, REHABILITATION, NUTRITION and MIND ARTS.
HIGHLIGHTS: We have following highlights at MCA-

Independent fully dedicated state of the art Studio at Andheri West.
First and only place in india to offer all the modern day martial arts like Muay Thai, Krav maga, JKD, MMA Mixed Martial arts, BJJ, Filipino Kali, Aikido, Wing Chun, etc.

Facilities primarily for Adult working stressed out men and women.
Weekend training once or twice a week for convenience.

Flexi timings alterable by appointment.

Sophisticated specilaised equipment for building speed, power and precision. Safety gears to enable safe engagements between participants.

Selection of clients to exclude low socio economic uncultured street vagrants, creating an environment of good and healthy energy exchange.   
COMPONENTS OF TRAINING AT MCA:The MCA training includes the following components for students
Via FITNESS section, We make people fit via our various martial combat training modules, they become leaner, stronger, more flexible, more agile, gather more stamina and get more ready to endure the travelling, the stress and other rigors of city life
Via COMBAT TRAINING section, We make people addicted to a life of a fighter in mind, soul and body. Every animal learns to fight for survival. Humans too have a natural ability to fight for survival and we help develop this inherent ability while making learning fun and safe, with our state of the art equipment, medical monitoring, music and expert specilaist licensed instructors.
Via REHAB section, We help recovery or control of High Blood pressure, High Blood sugar, Joint pains, Spondylosis, Pot belly and in general reversing the process of premature ageing.
Via the NUTRITION section, we help in weight optimisation, fat loss, gaining muscle to reshape the body and energize students to feel alert, concentrate better, improve focus, will power and energy levels.
Via the MIND ARTS section, We teach Zen Meditation and use the modern day Bodhidharma version of contemplation and explosion of bothersome stress and mental blocks and paving the path for liberation and fulfilled life. 
CONTACT US TODAY
Call 9820496752 and speak to Ms Zeenat to schedule a visit to MCA – Mumbai Combat Arts Training facility, India one and only one dedicated combat training studio.
Call us today and start your journey of combat.
"A journey of a thousand miles begins with a single step"
- LAO TZU